From dog couch to dog shampoo, here are must-have items from Walmart that will higher raise the quality of your dog's life.

2.
An elevated dog food/water bowl so your furry friend can reach their dinner with ease.

3.
And a cute dog food mat perfect for pups who make a mess when they come inside to drink water on those hot summer days!

4.
An outdoor frisbee that'll float until your dog fetches it from the water like a swimming champion.

5.
An 130-pack of Greenies dental treats ideal for little dogs who need the dog version of a breath mint! These will help reduce tartar and keep your pup's mouth fresh.

6.
A bottle of bitter apple spray so your teething puppy can finally meet their match. This spray is pet-safe and bitter tasting to discourage chewing — spray it on furniture, shoes, and anything else your dog should not be putting in their mouth!

7.
A 300 or 600-pack of eco-friendly dog poop bags that do notcome on those tiny rolls. These bags are made of recycled materials, and will last you way longer than smaller sizes.

8.
An adorable doggy raincoat to ensure your good girl/boy is the brightest babe on the block on a cloudy day.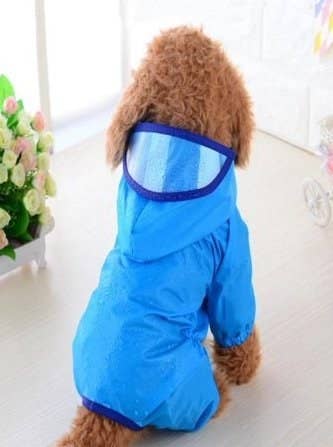 9.
A strong leash for anyone who recently let the dog run through the desert with their leash on and now it's covered in cactus spikes (me) — truly there is no such thing as too many leashes when you own a wild pup!

10.
And an easy-to-step-into harness to slip on your pupper when it's time for walkies! Harnesses are a good option to lessen pulling on the leash.

11.
An elevated outdoor pet bed that'll keep the family dog nice and cool, and off the hard, hot ground as they bask in the sun outside.

12.
A two-pack of pet hair brush gloves for anyone who is tired of struggling through shedding season. If your pup cringes at the sight of a standard brush, these are a better bet!

13.
An extremely *adogable* dog-themed cookie jar to keep your dog's favorite bones and treats in! My grandma kept her golden retriever's treats in a similar cookie jar growing up, and it was iconic.

14.
A comfy and reflective dog collar so you can keep your pup stylish and safe on walks and adventures!

15.
And a customizable dog tag to make sure you stay ~pawsitive~ in the event your dog escapes from the backyard; because their name and your phone number will be right there for a good samaritan to find.

16.
A dog ball launcher that'll put "fetch at the park" on the top of your weekend priorities list, as it should be!

17.
A set of five cute fruit/veggie squeaky toys little dogs will want to play with *furever*, especially if it's too gross to go play outside.

18.
A super plush dog bed in a sophisticated newspaper design that just may make your dog Instagram famous once the world sees how precious they are snoozing in this bed!

19.
An airtight pet food container (with wheels!) designed to hold up to 25 lbs. of kibble for your pup to monch and cronch!

20.
A delish chicken and blueberry waffle dog treat your best buddy will sit, stay, and roll over for at every ~oppawtunity~.

21.
A pet stain and odor eliminator so you can easily clean up and avoid permanent carpet damage the next time your pup has an accident.

22.
An extra-gentle hydrating oatmeal dog shampoo the professionals trust. If your little angel has irritated/sensitive skin, this will soothe their coat.

23.
An investment-worthy dog couch for anyone who is at their wits end with dog hair on the furniture. Banishing the dogs to the floor is *ruff* and giving them their own couch is adorable, so…

24.
A hide and seek chipmunk game that'll entertain the goodest girl/boy as they play out all their hunting fantasies on the living room floor.

25.
And a four pack of collapsible dog bowls so you never have to begrudgingly pay a dollar to the man at the gas station who totally thinks you're going to use a plastic cup to steal soda and not use it to give the dog water ? like some kind of monster.