There nothing happier than seeing your lovely dog have fun. Here are summer items from Walmart for dogs that will make you and your dog have the most special summer ever!
1.
A dog splash pool so your BFF will have a luxurious place to cool down while the fam is making the most of that backyard.

And it's made of scratch-resistant plastic!
Price:$59.97
2.
A life jacket with handles on top so you can reach into the water and grab your doggo in case they decide to go for a swim when you're ready to go inside for some lunch.

3.
A dog-safe pool float in case your pupper can swim and you're lucky enough to have a hooman pool.

4.
Or if your dog is under 20 lbs., a pawsome pool raft you won't be able to resist Instagramming.

5.
Some doggles you're REQUIRED to take a pic of your dog wearing and send to my work email. They need sunnies for these dusk convertible rides too!

6.
And a car tether that'll keep an excitable pup from hopping out of said convertible.

7.
A dog visor to keep your dog looking and feeling cool — just like you!

8.
A bag with tons of compartment for all your dog's essentials, which'll be perfect for taking on a family vacation — or to the dog sitter before you head out of town for vacay. (I won't tell your dog.)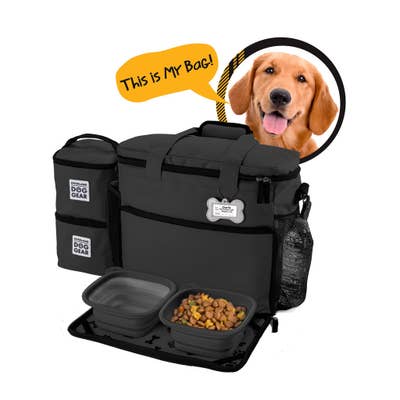 9.
A mesh barrier for road trips to nearby state parks that'll keep your dog out of trouble while you're en route.

10.
A dog hoodie expressing how you like your margs. And even if your dog is, ahem, salty that you aren't sharing your cocktail, they'll love the attention and pets this cute ensemble draws.

11.
A doggy backpack for your adventurous pup who's always convincing you to go on hikes. Look at that majestic, practical pose!

12.
A set of four collapsible water bowls you can keep on hand at all times so everyone's properly hydrated for all the summer fun!

13.
A rain coat to help deal with all those summer afternoon thunderstorms when nature calls and you can't let it go to voicemail.

14.
A hose attachment that'll make seasonal outdoor baths so much easier. Maybe the kids will want to get in on the fun?!

15.
A hammock-style seat cover – it'll make bringing your pup on road trips so much easier. Less time cleaning fur out of your car = more time for pets and playing catch.

16.
A rope toy long enough to use in a tug-of-war game using the full expanse of your backyard. It's there, the weather is nice, you might as well!

17.
A ~cooling~ gel memory foam bed with lil' couch-like bumpers your dog will love to rest their precious noggin on' — just like my parents' dog Hank Lilly!

18.
A festive collar you can have at the ready next time you wear your toucan shirt.

19.
Or a fancy bandana because maybe you're not the only one who wants to look nice for company?

20.
A ball-launching stick will help you avoid picking up a slobber-coated tennis ball during your next fetch session.

21.
Or a super-size tennis ball you won't have to look for everywhere around the house. Yep, it's that big.

22.
A shark fin costume that's really for your benefit so you can make allll the Jaws jokes. They're good jokes, OK?!

23.
And some shark pajamas because they're too funny to *not* put on your dog. Just one pic!

24.
A sturdy dog house for the outdoor doggo who frolicks around a backyard that doesn't have a ton of natural shade.

25.
Or a charming dog house that may just be nicer than your own house. No judgment!